I did my own 'calligraphy' for my wedding.  It involved a specialized fountain pen and lots and lots of inky fingers!  In the end, I thought it came out pretty good—I got calls asking about my handwriting (sorry for the bragging!  I felt so proud. :3) but it was a LOT of hard work (but also lots of fun)!  Part of the difficulty came from not knowing where to start.  I started with the wrong pens and then I had the wrong ink—I was pretty discouraged and I almost gave up!  I'm glad I stuck with it.
To make it easier for an already busy bride who's got a LOT on her plate, Ashley Lurcott, a pro wedding calligrapher, has curated this beauty.
Voila!  The Lettered Bride.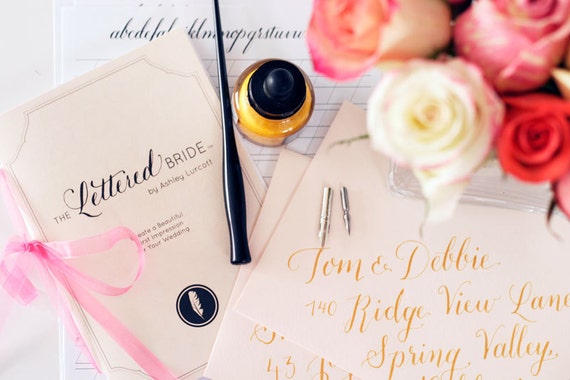 The Lettered Bride DIY Calligraphy Kit is much more than just a pen, ink, and an alphabet to copy — from laying out your envelopes, to crafting your own unique lettering style, to prepping and cleaning your pens, it's your complete guide to addressing beautiful wedding invitations!

The Lettered Bride comes with high-quality, bride-tested tools and materials to make learning a modern calligraphic style easy and fun. Add a personal touch to your invitations and other wedding paper goods (favors, name cards, etc.) without spending a ton of time and money trying to find the right materials!

EACH KIT COMES WITH:
– Easy care, no-rust pen holder
– Two different nibs to create a variety of writing styles
– High quality ink tested on commonly used wedding envelopes (please specify black, white, or gold)
– Step-by-step instruction booklet with alphabet variations, pen care instructions, envelope layout ideas, and custom-ruled practice sheets
– Lovingly packaged by hand – perfect for engagement gifts!

WHY THE LETTERED BRIDE?
– Designed by a bride who spent way more time and money than she wanted to trying to find the right tools to address her wedding invitations!
– Specify your ink color – perfect for those using darker envelopes who may want gold or white ink.
– All three available inks have been thoroughly tested against many other inks and are beautiful, opaque, durable, quick to dry, and just the right consistency.
– The Lettered Bride emphasizes modern calligraphy scripts – most in-store kits don't provide pointed-pen nibs and instead teach old-fashioned, gothic calligraphy styles.
– The instruction booklet includes prepping and care of your pens and nibs, envelope layout ideas, troubleshooting, and multiple variations of letterforms so you can create your own unique alphabet that works with your natural handwriting.
– Works for lefties and righties!
What do you guys think?  I absolutely love this kit!  Personally, I would go for the gold ink.  Heck, I'm tempted to buy this as a birthday present for myself.  Now I can handwrite envelopes for my sister's future wedding?  I hope?  :]
PS Ashley also sells GORGEOUS custom calligraphy rubber stamps.  You'd have the most amazing RSVP card ever.